THE EGO OF PATRICK REED – What gives with this guy?
Patrick Reed, what gives with this guy?
He clearly has all the talent in the world to be able to not only make it on the PGA tour but also win 3 times in his first season and make the Ryder Cup.  No one questions whether or not he can hit a golf ball or play this crazy game at a pro level.  What is being questioned is the crazy comments and antics surrounding him and his tremendous ego.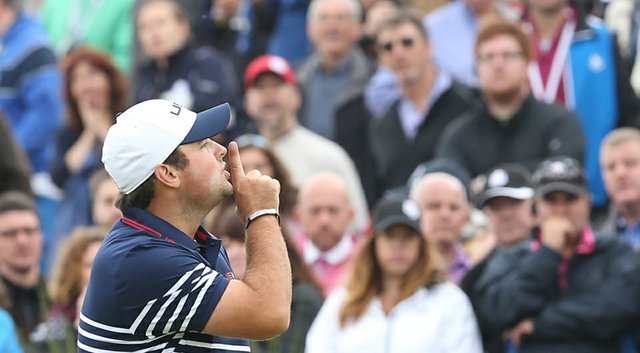 Yesterday, in Shanghai while playing the WGC-HSBC Patrick Reed made the following comment.  Listen close…
Of course when you're caught saying something like that you instantly jump to twitter to apologize, which he promptly did.
I'm sorry for using offensive language today in China. My passion to play well got the best of me and my word choice was unacceptable. — Patrick Reed (@PReedGolf) November 6, 2014
Whether or not the comments were homophobic are left to you to debate but what isn't debatable is that pro players are aware they are on a stage.  On that stage there are microphones and that audio is played for the world.  As a pro athlete you must be aware of this. Quickly some of our twitter followers jumped to his defense citing that people are being too PC.  Others however used this as fuel to their already hate for Reed.
Reed's initial moment of controversy came at the WGC at Doral.  After claiming the win, his third of the year he made the following comments on the 18th green
"I've worked so hard. I've won a lot in my junior career. I did great in my amateur career. I went 6-0 in match play in NCAAs. We won NCAAs two years in a row (at Augusta State). I got third individually one year at NCAAs. Now, I have three wins on the PGA Tour. I just don't see a lot of guys who've done that, besides Tiger and the other legends of the game. I believe in myself. I feel like I'm one of the top five players in the world. I feel like I've proven myself."
This forced the golfing world to weigh in on his outrageous comments.  Players and media began to take shots and after a few weeks of the spotlight, it seemed to cool off the confident Reed.  He missed the cut at the Masters and it appeared that some form of humble pie was consumed. After a long summer of zero wins and playing some average golf, a moment came in the Ryder Cup where his true colors came out.  On the first tee during a match at GlenEagles a fan yelled a comment about Patrick's sub par putting. After many holes of frustration, he nailed a putt and tried to get under the skin of the European dominant crowd.
This again fired up the anti-Patrick Reed fans out there causing them to once again take to social media with hate filled comments.
He is young, talented and outspoken.  This normally leads fans to either love or hate you quite quick.  Either way perhaps he should take some of his own advice and …